Introduction
Pemagatshel divisional forest office is the 14 th divisional forest office in the country. It was inaugurated on 17 th November 2016 at Nangkhor under Shumar Gewog. The new division will provide services to the general public of 11 Gewogs under Pemagatshel Dzongkhag. With the inception of new division, it will benefit the public in receiving forestry services timely and most efficiently. Earlier, the service was catered from SamdrupJongkhar division. At present, the new division constitutes two Range Offices, three Beat Offices and two Check posts. It is Pemagatshel and Nganglam Range Office; Dungmaed, Yurung and Nanong Beat Office; Kherigonpa and Nganglam Check post.
The Pemagatshel Dzongkhag is situated in the extreme east of the country. The Dzongkhag has total geographical area of 1,023 sq km, extending its altitudinal range 100 to 2600 meters, distributed under wet subtropical to cool temperate agro-ecological zone (RNR Statistic, 2011). The LCMP, 2010 reports that 87.65 % of the district area is covered under green forest contributing 3% to the country's forest coverage. The report clearly defines, indicating good intact of forest cover in the Dzongkhag.
Table 1: Area by Dzongkhag under forest cover
 
 Forest area by types (sq km) Total
%
Dzongkhag
Total area

(Sq km )

Blue pine
Broadleaf forest
Broadleaf with conifer forest
Chir pine
Mixed conifer forest
Forest area
Natural pasture (%)
Pemagatshel
1,023
0
799
16
80
1
896
0.1
Table 2: Distribution of area (sq km) by agro-ecological zones, Pemagatshel Dzongkhag
| | | | | | |
| --- | --- | --- | --- | --- | --- |
| Zones | Wet subtropical | Humid subtropical | Dry subtropical | Warm temperate | Cool temperate |
| Altitudinal gradient (meters) | 100 – 600 | 600 – 1200 | 1200 – 1800 | 1800 – 2600 | 2600 – 3600 |
| Area (sq km ) | 20.94 | 9.27 | 41.70 | 28.06 | 0.02 |
(RNR Statistic, 2011)
The Dzongkhag has 11 Gewogs distributed across varied ecological zones. It has a total population of 23, 777 (PHCB, 2005), spreading across 2,937 households (Dzongkhag Statistics, 2010). The agriculture here is largely dominated by dry land farming and wetland cultivation in the lower region followed by orchard farming. Moreover, livestock dependence has also been inevitable source of livelihood for the farmers. The farmers believe that their reliance on forest existed since the time of their great ancestors and even today, it is considered their overall source of livelihood.
Contact Information
Division Google Group: pg_divisionoffice@googlegroups.com
CFO Office: 07- 471160, Mobile: 17612566
General Section: 07- 471282
Fax #: 07- 471147
TOR and Sections
Pursuant to the resolution of staff coordination meeting held on 18th November 2016, the functional units of Pemagatshel divisional forest is organized into four broad sections. Under the sections, several small units are formed to cater the service respectively. The sections, units and the mandates are as below.
1. Finance Section
The finance section will deliver all the services related to financial matters. It includes budgeting, sanctions on capital activities, proposing current activities, passing bill and maintaining annual financial records.
2. Administration Section
Administration section will manage all the services related to administration and management in the office. It will broadly cover following responsibilities:
Dealing with matters pertaining to personnel administration of all staffs under the Division.
Maintaining proper service records of all the staffs under the division.
Timely completion and submission of annual performance evaluation reports.
Be responsible for processing training/tour/workshops/transfer/promotion/disciplinary action.
To keep record of the staff leave and whereabouts during their absence from the office.
3. Resource Allocation and Management Section
Under this section, there are three small units formed to cater the services effectively and efficiently.
a. Social Forestry and Extension Unit. It will render following services.

Community forestry management
Private forest establishment
Forest plantation and nursery management
Catchment area management

b. Resource Allocation and Trade Section

Rural house building timber approval
Non wood forest product groups management
Issuing forestry clearances

c. Research Information Monitoring Section

Office data management
Field research
Progress reporting
Information sharing
4. Resource Protection and Enforcement Section
a. Conservation and Protection Section

Patrolling
Regular monitoring
Enforcement
Wildlife protection
Forest fire
Encroachment
Organogram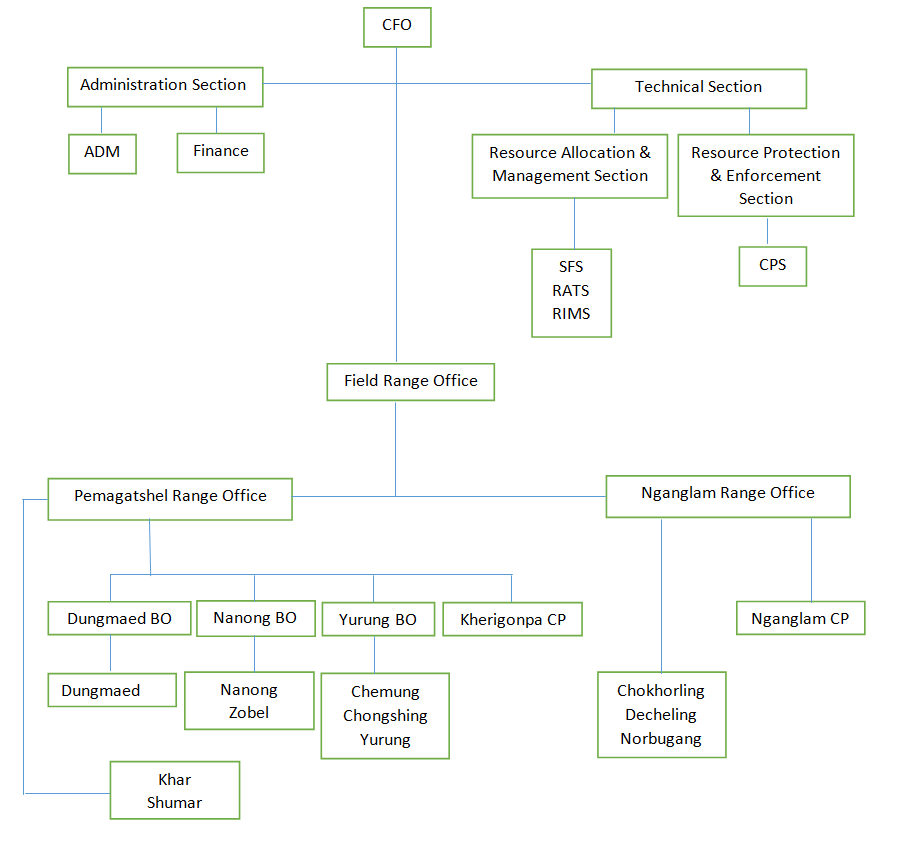 Legend:
BO (Beat Office). CP (Check Post). CPS (Conservation & Protection Section). LCMP (Land Cover Mapping Project) PHCB(Population and Housing Census, Bhutan) SFS (Social Forestry Section). RATS (Resource Allocation & Trade Section). RIMS (Research Information & Monitoring Section). ToR (Terms of reference)