Introduction
Wangdue Forest Division was established in the year 1990. The Division covers two Dzongkhags i.e. Punakha and Wangduephodrang with 25 Gewogs (10 in Punakha & 15 in Wangdue) catering to 7171 households (58,312). The Division currently has 106 technical staff, 4 non-technical (Accountant, Adm., & 2 drivers).
Vision, Missions & Mandates
Vision:
Protection, Conservation, and Management of Natural Resources for socio-economic benefit of the citizen of Bhutan through professionalism supported by strong information and advanced forestry science.
Mission:
Protection, management, development and utilization of natural resources on sustainable principles to fulfill the needs of both rural and urban population by ensuring 60% of its area maintained as forest for all times to come.
Mandates:
Ensure 60% of area maintained as forest for all times to come. Conservation and promotion of sustainable utilization and management of biodiversity, forest and water resources.
Participate in drawing policy, acts and rules of the forestry sector.
Protect State Reserve Forest from illegal activities such as timber harvesting, wildlife poaching/fishing, and exploitation of other sand/stones/boulders and NWFPs through regular patrolling.
Implementation of human wildlife conflict strategy as relevant to the division.
To prepare and implement Biological corridor management plan for BC 2 and 8.
To prepare and implement Ramsar management plans for Khotokha and Gangtey-Phobji to conserve wet land areas.
To prepare and implement Management Plans (Local Forest Management Plans) for forest areas outside FMU systems for sustainable management of the forest area of Gewog in order to meet the timber demands of the local people.
Reduce poverty and enhance development by verifying and issuing forestry clearance for land allotment, road construction, telephone & transmission lines, quarry, mining, etc.
Service delivery to clients as per provisions in FNCRR (forest product allotment, clearance & regulatory functions).
Liaise with FPED, SFED, WCD, FRMD, NRED, WMD and FIRMS for information and technical expertise in the implementation of any programs and activities as required and found necessary in the field.
Prepare and implement activities as per the Five Year Plan programs with proper monitoring and submit report to the department.
TOR of Division
1.Forest Resource Management Programs
Forest Management Unit Plans
Objectives: Manage the forest on multiple uses, sustained yield basis for production of timber, firewood and other forest products and for conservation of watershed, wildlife and for environment protection.
Activities:
To meet the timber demand, commercial harvesting are carried out especially from production blocks of the FMUs by NRDCL however,
Facilitates and carries out periodic monitoring of the activity as per the management plan prescription.
Supply of RHBT for the rural communities from the FMU keeping in consideration the annual rural timber harvesting limit.
Carry out strict monitoring of plantation areas in FMU taken up by NRDCL when the regeneration status are found to be weak based on survey.
Local Forest Management Plan
Objectives: To bring all the areas outside the protection management unit under management regime for sustained supply of rural timber, NWFPs, protection of critical watershed and conservation of wildlife and environment.
Activities:
Prepare management plan for of areas outside FMU.
Allotment of rural house building timber from the potential production sites.
Supply of NWFPs to the communities aimed at uplifting the living standards.
Regular monitoring on resource utilization.
Adhoc Logging
Objective: To maintain the sanitation of the forest, control spread of pests/diseases and facilitate the regeneration of the species.
Activities:
Assess the area of the damages caused by the above calamities.
Carryout periodic monitoring of the affected sites to see the works are being carried out as per the prescription.
Scientific Thinning:
Objectives: To facilitate the healthy growth of the remaining stand (quality & increment) and to meet the requirement of poles and the fuel wood through thinning exercise.
Activities:
Identify and demarcate the location.
Enumerate the resource and handover to NRCDL for harvesting.
Carryout regular monitoring of the activity to ascertain the works are carried out as per the prescription.
Information and Data management (FIRMS)
Objective: To maintain scientific and reliable data under one system for future references and study.
             Activities:
The Division is responsible for collecting and maintaining all the activities carried by the Division as specified by the FIRMS data base system.
Collection of data report from all the field offices on a quarterly basis
Service for sand disposal from NRDCL sites:
Field staffs under the Division with NRDCL sand quarries are deployed on daily basis to process sand transits (transit permit issues). For this, two staffs had to be deployed round the year in addition to another three staffs on seasonal basis (November to April).
2.Wild life Conservation Program
Objective: Rescue of injured or displaced wildlife for conservation of wildlife
Activities:
Attend wildlife rescue missions under the Division jurisdiction.
Management and maintenance of wildlife rescue and rehabilitation camp.
Disposal of deceased wildlife to prevent wildlife disease outbreak.
Heritage Forest
Objective: Conservation of national heritage sites/forests under the two Dzongkhags
Activities:
Planning and management of the heritage forest for conservation and preservation.
Create awareness to the local communities on importance of the heritage forest.
Implement activities as per the management plan prescriptions.
Ecotourism
Objective: Promote conservation of forest through nature based ecotourism to alleviate poverty of the rural communities.
Activities:
Identify and promote ecotourism through development of eco trails, homestays, birding/botanization, hotstone bath, etc.
Management of RAMSAR Sites
Objective: To maintain and enhance the ecological character of the RAMSAR sites.
Activities:
Development and implementation of RAMSAR management plan for two sites.
Improvement of Waterholes and wetland enrichment planting for two RAMSAR sites.
Nature trail development.
Setting of hydro-met station.
3.Forest Protection and Enforcement Program
Forest Fire Prevention and Suppression
Objective: Effective coordination of forest fire prevention and response activities to curb forest fire incidences.
Activities:
During all the fire incidences, the division in collaboration with its field units, have effectively coordinated with other agencies and responded for suppression activities without much affect to settlements and properties.
Plan and coordinate Forest Fire Management Groups under the Division
Anti-poaching
Objective: Periodic coordination and conduct patrols to curb illegal activities involving wild animals.
Activities:
Planning of patrol under Division.
Carry out regular patrolling and reporting to curb illegal activities.
Follow up of offences cases detected.
Record maintenance.
Illegal Forestry Activities
The Division, along with field unit, conducts periodic patrols to curb illegal activities for timber, sand and boulder. With presence of timber resources and NWFPs such as sand and boulders, large numbers of illegal cases are encountered owing to huge developmental activities in the region. Annually, the Division encounters about 260 offence cases (Table 2) which require team work and time to follow up on these cases. Along with, at least three staffs from the division is deployed to cordyceps collection site to monitor for three months.
Issuance of Forestry Clearance
Objective: Sustainable management of SRF land for developmental activities to alleviate poverty by issuing forestry clearance and ensure minimal damage to biodiversity.
Activities: This section is entrusted to coordinate, review and process proposals for any activities that require forestry clearance. In general proposals for clearance issue can be categorized into; 1) SRF land allotment, 2) Developmental activities, 3) Surface collection of boulders and sand, 4) Removal of forest product from registered land. With up surging developmental activities in the valley and presence of two mega projects (PHPA-I and PHPA-II), numerous proposals are received for forestry clearances.
Besides the clearance activities, this section is also focal for RAMSAR activities and coordinating annual planning and reporting as per APA. In addition, record maintenance for the activities and reporting to the department is also carried out.
Annual Performance Agreement of the Division
Objective: Preparation of APA for the Division for efficient service delivery
Activities;Coordinate preparation of the APA for the Division in line with the Department APA.
Maintain evidence for the each activities carryout by the Division as per the APA target.
Ensure the targets of the APA are fulfilled.
Government to Citizen Services
Sanctioning of RHBT and other forest resources.
Objective: To enhance Government to Citizen Service delivery on allotment of rural house building timber and other forest resources (firewood, flag poles and fencing post).
Activities:
Verification and sanctioning of rural house building timber and other resources for equal resource sharing.
Maintain data of the sanctioned RHBT and other timber resources.
Create awareness to field staff, rural community and Gewog Administration on RHBT procedure and eligibility on RHBT
Marking, passing and monitoring of RHBT
Objective: To ensure proper extraction and utilization of RHBT
Activities:
Carry out marking and passing of the RHBT and other resources on a time basis.
Ensure and monitor the movement of timber from source to destination for proper utilization of the timber.
Social Forestry and Extension Program
Overall planning and coordination of participatory forestry activities (collaborative activities with communities)
Community forestry
Objective: With the initiation of community forestry in the country the Division is responsible for identification, planning, technical backstopping and monitoring of the community forest management group (CFMG).
Activities:
The planning of the management plan and review of the old CFMP after every 10 years.
Monitoring and evaluation of the CF activities on half yearly basis as per FNCRR 2017.
Take part in timely monitoring when required and participate in the CFMG meeting as a facilitator.
Objective: The Division supports the formation of private forest by providing technical guidance, providing seedlings and other support.
Objective: Promote formation of NWFP groups under the two Dzongkhag for sustainable management and poverty alleviation of the rural communities.     
Activities:
Planning of the NWFP management for the new as well as review of the old management plan for every three years.
The monitoring and evaluation of the NWFP group has to be carried out in yearly basis to ensure the management plan has been followed accordingly.
Afforestation and Reforestation Program
Objective: To bring barren and degraded SRF area under plantation programs to maintain country's forest cover at 60% for all times to come.
Activities:
Division is responsible for site selection, creation of estimate and getting approval for the technical sanction.
To provide technical support for the plantation and species selection.
The monitoring and evaluation of the plantation sites on quarterly basis to ensure successful plantation program by the GBCL.
Moreover, the Division also carries out separate monitoring and evaluation of plantation collaboratively with SFED and PHPA.
Objective: Production of seedlings (trees and ornamental plants) to meet the demands for plantation activities.
Activities:
Planning, procurement of raw materials/seeds, management of nursery labour and maintenance of the nursery on a timely basis.
Ensures quality production of the seedling annually by carrying regular monitoring and evaluation by the Division headquarter.
Implementation of watershed program
Objective: Preserve and conserve watersheds under the two Dzongkhags
Activities:
Identification, assessment and study of drying water sources and spring sheds.
Carry out mitigation activities in drying water sources and spring sheds.
Carry out mitigation activities in Baychhu area as per the Baychhu watershed management plan.
Objective: For projection of environment through effective waste management techniques
Activities:
Carry out monthly waste cleanup campaign involving local communities and stakeholder on 9th day of every month.
Create awareness on waste management.
Monitor waste in SRF land as per the FNCRR 2017.
Biological Corridor Management
The 60 km long Biological Corridor 2 links Jigme Dorji National Park with Jigme Singye Wangchuck National Park. In the north, close to Jigme Dorji National Park, the corridor is about 6 to 7 km wide. BC 2 has an area of 27595.41 Ha which covering seven Gewogs within the three Dzongkhags.
Kabesa and Toebisa Gewog in Punakha Dzongkhag covering 6 Chiwogs.
Nahi, Gase-Tshogwom and Daga Gewog in Wangduephodrang Dzongkhag covering 8 Chiwogs.
Chang and Kawang Gewog in Thimphu Dzongkhag.
Objectives;
To ensure ecological connectivity between JDNP and JSWNP with the possibility of a southward extension to established connectivity and provide resilience to changing climate and land use.
To reduce the direct and indirect threats to focal species, other biodiversity and ecosystems in the corridor.
Sustain livelihood of local communities through sustainable forest management plan.
Activities:
Field survey to determine the distribution and conservation status of red panda, musk deer, tiger, clouded leopard and other keystone species such as;
Rufuous-necked hornbill
Himalayan Monal Pheasant including small mammals, herpeto-fauna and their habitat throughout the corridor.
Identify and map key habitat areas for focal and other flagship species, that provides connectivity
Manage and minimize HWC in the biological corridor.
Implement/upscale innovative HWC mitigation measures in and around the Biological Corridor.
Conduct biological corridor functionality study to assess the impact of climate and land use changes.
Administrative Setup
Organogram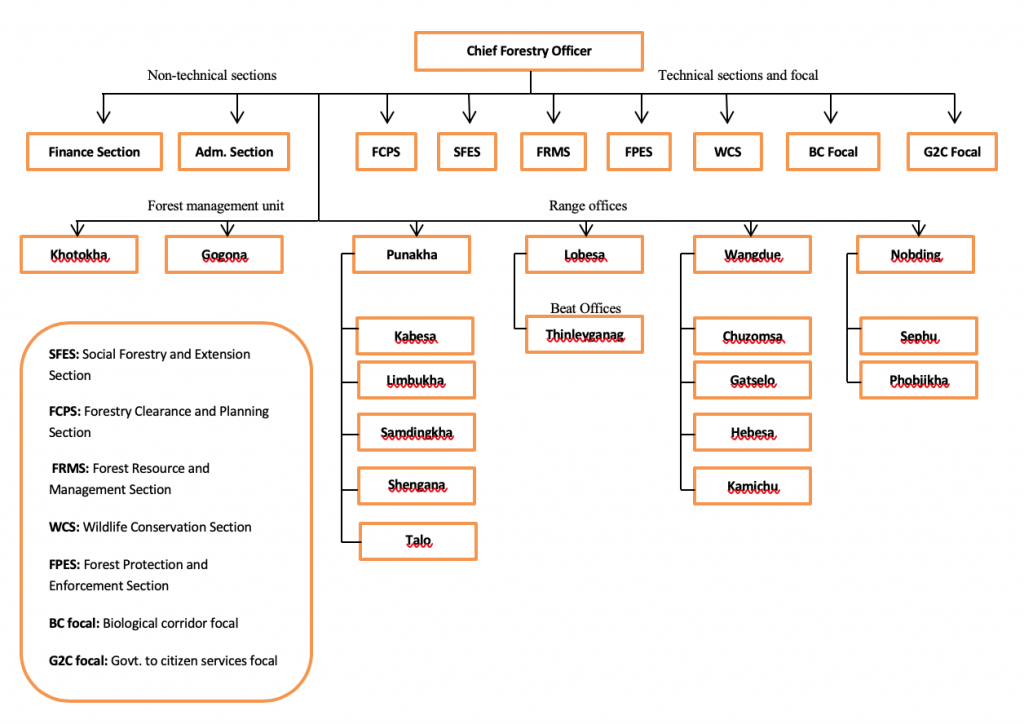 372 total views, 2 views today